Tel:
+44 (0)1480 862081
Address:
Unit 11 Harvard Ind. Est.
Kimbolton
Huntingdon
Cambridgeshire
PE28 0NJ
United Kingdom
Email:
sales@infecon.com

Welcome to Infection Control Enterprise Ltd
Infection Control Enterprise Ltd (ICEL) aims to provide its customers with a one stop infection control shop providing a variety of products aimed at the infection control professional.
Our continued presence in the market place has not only proved our products but also the company and our committment to customer satisfaction and providing the best service possible. more about us....
ACMEipc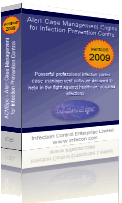 ACMEipc or Alert Case Management Engine for Infection Prevention Control is the most advanced and effective infection control solution on the market!
Completely web enabled incorporating real time integration with all existing hospital systems, our unique Outbreak management tool and user customisable web portal puts ACMEipc at the top of its class. read more...
---


Citroxx BioTM represents a real breakthrough in low alcohol hand gels and cleaning products.
Naturally derived and environmentally friendly, Citroxx BioTM is ideal for all the family, at home and on vacation.
Now available our new Citroxx-Bio Water Sanitiser! read more...
© 2006 - 2021 Infection Control Enterprise Ltd